Vioxx
About the Vioxx Recall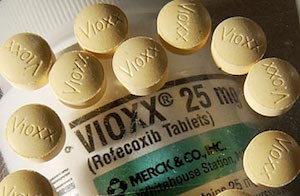 Vioxx is a prescription pain reliever used for Osteoarthritis, Rheumatoid Arthritis, Juvenile Rheumatoid Arthritis, severe menstrual pain and migraine headaches. Vioxx is an NSAID (NonSteroidal Anti-inflammatory Drug). It is a Cox-2 inhibitor, and was claimed to cause fewer gastrointestinal problems than other NSAIDs, including aspirin.
Vioxx has been on the market since 1999. It's generic name is rofecoxib ("ro-fa-COX-ib").
Vioxx Recalled
On September 30th, 2004, Merck & Co., Inc. announced a voluntary withdrawal of Vioxx®. Data revealed in a three-year clinical study showed an increased risk for cardiovascular events, including blood clots, heart attack, and stroke in patients taking Vioxx. Vioxx roughly doubled the risk of heart attacks and strokes in patients who took the drug daily for more than 18 months. More than 20 million people have taken Vioxx since it was introduced in 1999.
"We are taking this action because we believe it best serves the interests of patients," said Merck chairman, president and chief executive officer Raymond Gilmartin. "Although we believe it would have been possible to continue to market Vioxx with labeling that would incorporate these new data, given the availability of alternative therapies, and the questions raised by the data, we concluded that a voluntary withdrawal is the responsible course to take."
Vioxx generated $2.5 billion worldwide in sales a year, about 11 percent of the company's total revenue.
Vioxx Lawsuits
Several lawsuits have already been filed against Merck. Merck expects about 16,000 people to file legitimate Vioxx lawsuits against the company. Even before Merck's Vioxx withdrawal announcement, several hundred suits had been filed against the company by Vioxx users who experienced heart attack and stroke while taking Vioxx.
Although lawyers don't expect it to be as wide-spread a case as fen-phen, the individual damages collected by successful Vioxx plaintiffs will likely to be larger than fen-phen, as the injuries and deaths caused by Vioxx are much more severe than the damages from fen-phen.
Contact a Vioxx Lawyer
The Vioxx lawyers of Hollis Wright have experience dealing with not only this Vioxx specifically, but with similar problems caused by other prescription drugs.
A lawyer familiar with Vioxx litigation and pharmaceutical litigation in general presents a number of advantages to clients. He will need to spend less time researching the case and he will understand the ways in which the company will attempt to defend itself. Vioxx lawyers have experience working with the Vioxx legal team, and generally have valuable insight into the company's legal-defense methods. An experienced Vioxx lawyer can help you decide the best methods to use to protect yourself and your family. Vioxx lawyers understand the medical risks of heart attack and stroke posed by this drug.
A free Vioxx case evaluation, to determine whether you have a viable Vioxx case, will be provided by the Vioxx lawyers at Hollis Wright If your Vioxx case qualifies, Hollis Wright will work with your doctor and with a term of consulting medical professionals to ensure that you are properly represented and protected. Hollis Wright is ready to evaluate your Vioxx experience for free, and to handle your Vioxx case if it qualifies.
The best way to determine if you need a Vioxx lawyer is to complete our free, no-obligation form. Let a Vioxx lawyer at Hollis Wright evaluate your case for free. That's the first step you can take to protect your rights and fight back.
Register Your Vioxx Case - Free Case Evaluation
If you or a loved one experienced heart attack, stroke or sudden death while taking Vioxx, please complete our free evaluation form. Your case will be evaluated for free, and we will let you know whether you have a valid case against the manufacturer.
Click here to complete our free evaluation form, and submit your case to Hollis Wright for a free and confidential case-review and consultation.