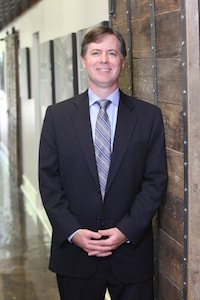 C. Carter Clay
Partner
Carter was born in Mobile, Alabama on June 23, 1973, and graduated from St. Paul's High School in Mobile in 1991. He attended college at The Citadel in Charleston, South Carolina on an athletic and academic scholarship. During his senior year, he was a member of The Citadel Honor Court and received the Marion S. Lewis athletic award. He graduated magna cum laude from The Citadel in the spring of 1995 with a B.S. in Business Administration.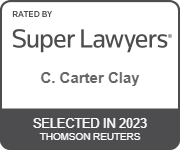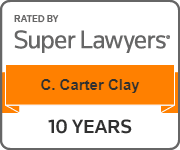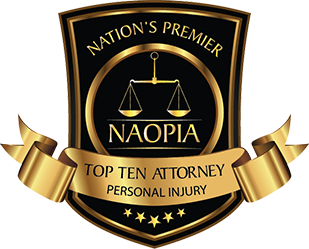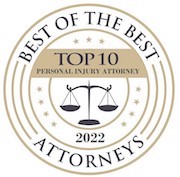 Upon graduating from college, Carter spent the next year working on Capitol Hill in Washington, D.C. as a Legislative Correspondent/Assistant to Congressman Tom Latham (Iowa-4th District). In the fall of 1996, Carter entered Cumberland Law School at Samford University. He received his J.D. Degree from Cumberland in the spring of 1999. While at Cumberland, he received the Scholar Merit Award in the subject of Evidence and achieved the Dean's List status multiple times. Carter was admitted to practice law in the State of Alabama upon passing the bar exam in 1999.
Since he started practicing law, Carter has exclusively represented individuals in the areas of civil litigation involving truck and automobile accidents, defective products, medical malpractice, pharmaceutical and medical device litigation, industrial/construction accidents, premises liability, fraud, bad faith, and workers' compensation. In March of 2010 and in light of Carter's experience and accomplishments, he was appointed by a U.S. District Court Judge in the Southern District of California to the Plaintiff's Steering Committee (PSC) in the re Hydroxycut, which was litigation involving injuries sustained by individuals after taking the dietary supplement known as Hydroxycut.
Carter handles cases throughout the entire United States and has participated in numerous jury trials with great success. He has amassed some of the largest settlements and verdicts in the State of Alabama on behalf of wrongful death victims and injured individuals. In addition to numerous settlements in excess of $1 million, Carter previously obtained a $3 million jury verdict in Madison County, Alabama, on behalf of an individual injured in a motor vehicle accident. According to the Alabama Jury Verdict Reporter, this was the largest jury verdict in Madison County for that particular year. He also obtained a $1.45 million jury verdict in Leon County, Florida, for an Alabama family that was involved in a motor vehicle accident while driving through Tallahassee, Florida. In the realm of medical malpractice, Carter obtained a $3.5 million jury verdict in Dallas County, Alabama, on behalf of the estate of a young boy who died while a residential student at an academy. In terms of helping injured workers, Carter previously obtained a $1.6 million jury verdict in Mobile County, Alabama, in a defective product case. Most recently, Carter and fellow Hollis Wight attorney Michael Eldridge secured a $1 million jury verdict in Jefferson County, Alabama, for a young lady who was injured in a motor vehicle accident caused by a drunk driver. These verdicts have allowed Carter to be an eligible member for the Million Dollar Advocates Forum, which consists of attorneys who have obtained verdicts in excess of one million dollars.
Carter is admitted to practice before the Alabama Supreme Court, the United States District Courts in Alabama, as well as the U.S. Eleventh Circuit Court of Appeals. He is a member of the Alabama State Bar Association, Birmingham Bar Association, Alabama Association for Justice (ALAJ), and American Association for Justice. He has been a contributing member to the amicus curie appellate brief writing committee of the ALAJ for several years. Since 2012, Carter has been nominated and selected by his peers for inclusion in the annual editions of Mid-South Super Lawyers. In 2014, the National Trial Lawyers Organization recognized him as a Top 100 Trial Lawyer, and the National Academy of Personal Injury Attorneys selected him as a Top 100 Attorney for the State of Alabama.
Additionally, Carter has been a featured speaker at numerous seminars on topics, including "Recent Developments in the Areas of Spoliation, Subrogation, Mental Anguish, and Collateral Source Rule" (ABICLE), "The Automobile Accident from the Civil Side" (ABICLE), "Jury Selection Tips" (Lorman), "Handling Subrogation and Hospital Liens" (ALTA), "How to Effectively Use Video Depositions at Trial" (ABICLE), "Tips on Personal Injury, Product Liability and Mass Torts Litigation" (Barristers), "Settlements on Behalf of Minors and Settlement Agreements" (Barristers), and "Uninsured Motorists Coverage and Case Law Updates" (ALAJ).
Over the last several years, Carter has appeared as a guest on Talk of Alabama, a local television show that airs on ABC 33/40. Carter routinely serves as co-host as well on The Attorneys, a local show sponsored by the law firm, which airs on Sunday night on WVTM 13 and provides legal advice to viewers.
Carter is married to the former Heather Ranager, a native of Meridian, Mississippi, and 1994 college graduate from the University of Alabama. Carter and Heather have two children, Hollis and Coleman. Carter and his family attend church at Church of the Highlands and reside in the Crestline Community of Mountain Brook, Alabama.
Publications
Safe Alternative Design Proof in Defective Product Cases, presented via blog as a practice-specific topic, December 30, 2022.
You Better Object During Trial, presented via blog as a practice-specific topic, May 19, 2022.
Manufacturing a Product for a Customer? Better Be Careful!, presented via blog as a practice-specific topic, March 3, 2022.
The In-House Corporate Expert Witness-Was a Privilege Just Waived?, presented via blog as a practice-specific topic, August 18, 2021.
Injured by a Defective Product, Can I Sue the Retailer in Alabama?, presented via blog as a practice-specific topic, October 12, 2020.
Are Consulting Experts Always Privileged and Confidential? Arguments For and Against Production, presented via blog as a practice-specific topic, August 12, 2019.
Raise It or Waive It: Potential Problems for Practitioners with Minimal Pleading Requirements, presented via blog as a practice-specific topic, January 7, 2019.