Firm Overview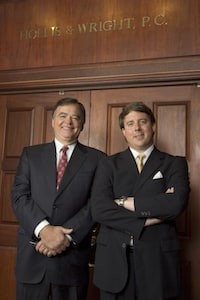 In 2002, attorneys Andrew Hollis and Josh Wright joined together to form the Hollis Wright Law Firm. The two attorneys had one simple philosophy in starting the firm: to put clients first at the law firm and to work hard each and every day to protect the client's interests by seeking compensation for the injuries they sustained. This goal has served them and the other attorneys at the firm incredibly well throughout the years and has helped them achieve some outstanding and fulfilling results. Hollis Wright has become one of the leading personal injury firms in the State of Alabama and has already established itself as a key law firm nationally in the area of mass torts.
Our attorneys are aggressive, zealous advocates for the clients we represent. We are highly skilled in litigating and trying complex and contentious cases while always maintaining a sense of professionalism, integrity and respect for others. Our attorneys have literally tried or settled hundreds of million-dollar cases.
However, our efforts are not only directed at achieving great monetary results for our clients. We understand that when you contact our firm, either you or a loved one has sustained an injury, oftentimes life altering. It is a time such as this that you need an attorney who will demonstrate compassion and take the time to truly understand your situation and the difficult challenges that you face. Our attorneys and staff members are dedicated to helping you through the litigation process and communicating with you about the developments in your case every step of the way.
If you have been injured in an accident, you need a lawyer who will take the time to guide you through the intricate process of collecting compensation for your injuries. The attorneys at Hollis, Wright & Clay, P.C. are ready to serve you. With more than 100 years of combined practice experience, a personal injury lawyer at the Birmingham firm will fight for your rights so you receive the compensation to which you are entitled that cover your medical bills, lost wages, emotional stress, and future expected losses. Contact Hollis Wright, today for a free initial consultation.
A personal injury lawyer at Hollis Wright, is ready to guide you through the complex process of collecting compensation for your injuries. Contact the personal injury and commercial business law firm online or call toll free at 844-529-8255 to receive your free initial consultation. The firm works for you on a contingency-fee basis, so you are never charged a legal fee until you are compensated for your injuries. Evening and weekend appointments are available.
Please view our firm news and resource page for up-to-date information about the activity of the firm.
If you are an attorney viewing this site and would like to refer a case to Hollis Wright, please see our referring attorneys page to learn how we allow you to maintain whatever level of involvement you wish with regard to your client and the case.
Free Case Evaluation
---
If you or a loved one has been seriously injured or killed in an accident or by a defective or dangerous product, please complete our free evaluation form. Your case will be evaluated for free, and we will let you know whether you have a valid case.