Defective Products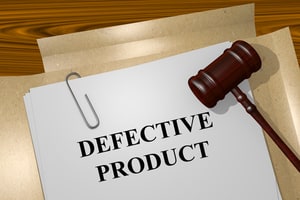 Our economy thrives on the sale and consumption of many different types of goods and products. Designers, manufacturers, wholesalers and retailers of products and goods have responsibilities to the general public to not sell products that are in a defective condition and unreasonably dangerous. If they do and someone gets injured or killed, then the company or person(s) responsible for the design and manufacturing of such a product can be held liable. This area of the law is known as product liability.
Types of Product Liability Cases
One type of product liability claim involves a defective design. A designer has a responsibility to design their product in a reasonably safe manner. Factors a designer should consider when designing a product involve the use of the product, inherent dangers in the product, technology in the industry, safeguarding of dangers and much more. Design defect cases can be some of the most challenging and expensive cases to litigate. These types of cases involve significant expert testimony, typically from engineers in the field, who are qualified to render opinions about the safety and/or defective nature of the product.
The second type of defective product claim involves a manufacturing defect, in which the product is manufactured inconsistently with the design. The ultimate question in these cases is whether the product was manufactured differently from what the design specified and if so, did the defect cause the injury.
The final type involves a failure to warn or provide proper instructions with the product. Manufacturers have a legal duty to warn users about the dangers or hazards associated with the product, unless the dangers are obvious. Further, manufacturers have a responsibility to provide adequate instructions about how to properly and safely use the product. If the manufacturer fails to provide adequate warnings and instructions, it can be held liable if a proper warning or instruction would have likely prevented the injury.
The Birmingham product liability attorneys at Hollis, Wright & Clay, P.C. routinely represent individuals and families that have been injured as the result of using or consuming:
When pursuing a product liability claim, evidence is extremely critical and the preservation of the injury-causing product is essential to the prosecution of such a claim. If you don't have the actual product that was involved in the incident or event, it can be very difficult to pursue a product liability claim. Our attorneys can help preserve and maintain the product at issue in an effort to maximize your chances of success. So don't wait, please act now to protect your rights.
Qualified Legal Counsel From Birmingham Product Liability Attorneys
The attorneys at Hollis, Wright & Clay, P.C. have years of experience representing individuals and families who were injured or killed as a result of a defective product. Our attorneys routinely litigate product liability cases involving all three types of legal theories. A defective product can be dangerous and hazardous to your health, welfare and safety. Our product liability attorneys believe you deserve the best possible representation and will vigorously pursue your rights to compensation for the sustained injuries including medical bills, lost wages, pain and suffering, emotional distress and permanent impairment. Our law firm has a vast database of engineers and other experts that we routinely employ to assist in the prosecution of these defective product cases.
If you or a loved one has been involved in an accident involving a defective product, the Birmingham product liability attorneys at Hollis Wright can help. Please keep in mind that time is of the essence so call us now toll free at 844-529-8255.