Motor Vehicle Accidents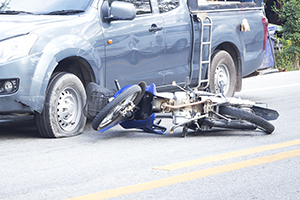 Every year, hundreds of motor vehicle accidents occur on the streets, highways and interstates throughout Birmingham, Alabama, and other parts of the state. Unfortunately, these accidents often cause life-altering, permanent injuries to innocent people. In fact, statistics show that the majority of drivers will be involved in some kind of motor vehicle accident during their lifetime and that about one-third of those individuals will be injured or killed. While these statistics are staggering and sobering, they only tell a small part of the story.
In a split second, a motor vehicle accident can occur and forever change your life or that of a loved one. Physical and emotional injuries stemming from a motor vehicle accident can come in a wide variety of forms and can result in significant personal and economic damages to you and your family. If injured or hurt in an accident, you or a family member can be saddled with significant medical bills, lost wages, property damage, permanent impairment, disfigurement, tremendous physical pain, emotional distress and mental anguish. Many individuals injured in a motor vehicle accident feel the ill effects of these injuries for a lifetime. Worst of all, and perhaps more tragic, children are injured and killed every day in these accidents. As a parent, the emotional scars left behind from losing a child are simply overwhelming.
More startling, recent statistics for one year for the State of Alabama from the Alabama transportation director include:
A traffic crash was reported every 4.15 minutes.
A person was injured in a traffic crash every ten hours and 17 minutes.
For fatal crashes, where a restraint was available for use, 56 percent of fatalities were unrestrained.
Most Alabama crashes (75 percent) occurred in urban areas, but most fatalities (55 percent) occurred in rural areas.
Of all fatal crashes, nine percent were caused by drivers 19 or under, and 24 percent were caused by drivers 25 and under.
For each fatality, there were 44 injuries.
Of all fatal crashes, 49 percent occurred at night (including dusk and dawn).
The pedestrian death toll was 57.
There were 76 fatalities involving motorcycle or moped riders.
Bicyclists accounted for six fatalities.
There were four fatalities that involved trains.
For front seat occupants in vehicle crashes, the probability of being killed is 47 times higher for those not wearing safety belts than those who are properly restrained.
Our Birmingham motor vehicle accident attorneys routinely handle motor vehicle accident cases that involve:
At Hollis, Wright & Clay, P.C., our motor vehicle accident attorneys understand and fully appreciate how difficult it can be to recover from injuries caused by a motor vehicle accident. Our attorneys are skilled in handling every aspect of a claim or lawsuit arising from a motor vehicle accident and have successfully resolved thousands of cases over the years on behalf of injured victims. No matter how clearly it may seem that the accident was the fault of another, it still takes a tremendous amount of investigative effort and legal skill to develop the case.
We have represented individuals who have sustained and endured almost every conceivable injury, including whiplash, concussions, broken bones, ligament and tendon injuries, spinal cord injuries, back and neck injuries, traumatic head and brain injuries, and more. Our attorneys are tenacious and aggressive when dealing with insurance companies that attempt to take advantage of injured people.
If you or a loved one was involved in a motor vehicle accident in Alabama, contact the Birmingham motor vehicle accident attorneys of Hollis, Wright & Clay, P.C. We'll review your claim for free and talk with you about all of your available legal options. Navigating your way through the insurance claim process as well as the legal process is difficult and a wrong decision on your part could cost you or your family meaningful compensation to which you are entitled and likely need to rebuild your life. Hiring experienced and qualified attorneys to handle your case is extremely important to ensure maximizing your recovery.