Testimonials
"My family and I are extremely pleased with attorney Carter Clay. He handled a wrongful death case for us. It was a tedious process but with Carter's help, the case went smooth and he helped us cope with our grieving. We endured such a great loss and Carter came highly recommended. We appreciate his integrity, feistiness, dedication and hard work. We are ever so grateful and thankful for Carter."
- G. Corbin, Mobile, AL
---
"My mom and I were in a terrible car accident as a result of a distracted driver. I was driving and briefly thought my mom was dead when everything stopped. I am truly so thankful we trusted Carter Clay and Hollis Wright with our claim. He and his amazing paralegal, Kewanee Fox, handled everything from start to finish. Mr. Clay is the real deal and negotiated incredible results for both my mom and me. I highly recommend Mr. Clay, Ms. Fox, and this firm. Don't take on an insurance company on your own."
- Mary B., Birmingham, AL
---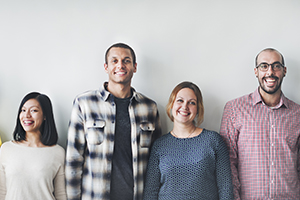 "I had the great pleasure of having Mr. Allwin Horn representing me. Mr. Horn stayed continuously in contact with me regarding my case. Anytime I called with questions he always made himself available. I never want to have to go through this ordeal again, but if I had to, he would definitely be the first person I call. He was nothing but courteous, honest, and very thorough. I knew the first day I spoke with him that he knew his business in and out. Anyone out there needing an awesome lawyer for their case should definitely use him. He is amazing. Thank you so much Mr. Horn. I appreciate your hard work."
- Chevonne Thomas
---
"Hello Mr. Wright, you gave a free consult to my son over this past Memorial Day weekend. He had his son in the NICU. I want to say thanks and God bless you for helping him out. I have a friend who is in Philadelphia who referred me to you. You helped my son feel better about the situation. This situation has been very unfortunate, especially for a couple having their first child. I will not hesitate to refer to you, nor will my son."
- Jeff
---
"The firm did not take my type of case, but they answered all of my questions no charge and gave me the number of someone who could. Thanks for being there Hollis Wright."
– Mike
---
"You got me justice without having to even file a suit for me. Thank you so much from the bottom of my heart for your time. Even though my air conditioner from Sears was not working, and I personally called repeatedly to have it fixed, a simple call from your firm finally solved the issue. And, I was 19 days this summer without air conditioning until your firm helped. You are doing a good thing for people! You really, really made a difference in my life."
– Carolyn
---
"My father died on January 11, 2013 from a significant brain injury that he sustained from a fall while working as a commercial roofer for a company in Albertville, Alabama. We hired Hollis Wright Law Firm to investigate the accident and represent the family. Attorney Carter Clay and his legal assistant did an outstanding job representing us. They were both extremely attentive, always returned phone calls and were very professional and courteous. Mr. Clay was aggressive and thorough in his pursuit of the wrongful death claim on our behalf and worked hard to achieve a successful outcome. I would highly recommend this law firm."
– C. Bishop, Whiting, IN
---
"They're very, very happy with you, Josh. Thank you. It's like I told them: if it was my mom, I'd want you to handle it."
– Referring lawyer
---
"Mr. Clay, thank you for all your hard work over the past couple of years. I really appreciate it. Please tell attorney Bo Bell thank you as well for all of his help and assistance. Thank you for rushing my settlement check as the settlement funds were really needed."
– S. Quinn, Tuscumbia, AL
---
"Mr. Clay, I want to express my gratitude to you for agreeing to take my case. I know that I contacted your law firm with a fast approaching statute of limitations and some really significant challenges in proving my case. Thanks for the time, work, research and energy that you put into my case and for helping achieve a successful outcome. Peace and blessings to you and your family."
– V. Daniel, Philadelphia, PA
---
"Josh Wright and Kenyetta Knight were a great team for my son's case. We needed help at a rough time in our lives, and they used compassion and great advocacy to protect my son's interests when he needed it the most. I would highly recommend this team to anyone that needed a solid, and caring, lawyer."
– Misty B., Birmingham, AL
---
"I, along with dad and family, want to thank your law firm for all that you did for us in representing my dad in his case. We were very satisfied with the settlement and the overall efforts by your firm. We also think that you and your staff made the process seem calm and smooth, yet professional. We could not have asked for a better attorney -– we would recommend you and your firm to anyone needing your expertise. Thanks so much for everything!!!"
– D. Hayes and C. Griffin, Clay County, AL
---
"Josh Wright represented me in a significant and permanent spinal cord injury case. I needed someone to take over and handle all the details of the case, so I could focus on recovering from my injuries. Josh and the staff at Hollis Wright exceeded my expectations in terms of how they handled my case. They worked extremely hard and were very aggressive in pursuing my case. I felt very confident in him as an attorney. He was compassionate and genuinely cared about me, my wife and our overall situation. Thanks to Josh and the Hollis Wright team, the case was a success even though we had to overcome significant legal hurdles."
– W. Brown, Graysville, AL
---
"The team at Hollis Wright were there for my husband when no one else would take his case. Not only did he work hard and recover money that we were owed. Without the help of Hollis Wright, we couldn't have afforded the care my husband needed and I would have lost him much sooner. We'll always consider you a part of the family."
– Donna B. Jemison, AL
---
"Attorney Carter Clay represented me in a claim arising from injuries I sustained in a motor vehicle accident. Mr. Clay did an outstanding job on my behalf. You often hear that the wheels of justice turn slowly but that was not the experience I had with Mr. Clay and his staff. They worked tirelessly to move my case along and accomplish a swift, great settlement. I highly recommend this firm to anyone looking for legal representation involving a personal injury."
– P. Tinsley, Nashville, TN
---
"Attorney Carter Clay represented me in a personal injury claim. I was going up against one of the biggest pharmaceutical companies in the country, which was a bit overwhelming. Mr. Clay walked me through every step of the process and personally contacted me whenever there was a new development with my case. Mr. Clay and his team were very professional. They deal with many cases and people on a daily basis. However, when it came to my case, they always made me feel that I was their most important client. They took the time to answer my questions and address any concerns in a timely manner and always went the extra mile to make sure I was satisfied with the direction the case was going. Mr. Clay and his team never give up and always seek justice that is fair. They truly fight for the voiceless."
– K. Davis, Mobile, AL
---
"Without hesitation, and understanding that I had the odds stacked overwhelmingly against me, Josh Wright recognized the injustice in my situation and eagerly took on my case; working hard and persistently to secure a judgment for me. Never having to deal with a legal case in my life, and living out of state, I found myself being told by numerous Birmingham law firms that my case was not winnable. And because the opposing party was represented by a politically popular attorney at a "prestigious" local law firm, many were not willing to go up against them. Mr. Wright quickly identified a legal basis upon which my case could stand, set the strategy and course for my case, and followed through with the needed research, determination, and litigation skills."
---
"Josh Wright eagerly took my case, which other law firms had declined because they felt it not winnable or were afraid to take on the opposing party's "prestigious" firm and politically popular counsel. Mr. Wright recognized the injustice in my situation, and worked hard and persistently to secure a judgment for me."