Philips CPAP, BiPAP, & Mechanical Ventilator Recall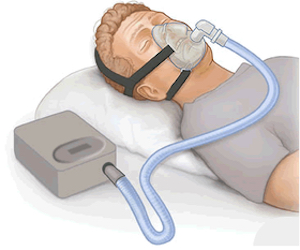 Effective June 14, 2021, Philips Respironics initiated a voluntary recall for specific Philips Respironics models of continuous positive airway pressure (CPAP), bilevel positive airway pressure (BiPAP), and mechanical ventilator devices. Philips stated that the recall is "to ensure patient safety in consultation with regulatory agencies." Of the three to four million recalled devices, approximately 80% are CPAP devices commonly used for sleep apnea. If you or a loved one previously used one of the recalled machines and sustained injuries or illnesses, you may be eligible for a monetary settlement. Contact the CPAP, BiPAP & mechanical ventilator injury attorneys Hollis, Wright & Clay, PC today for a free review and consultation.
The recalled devices include all devices manufactured before April 26, 2021 and include the following models:
A-Series BiPAP A30® and Hybrid A30®
A-Series BiPAP A40®
A-Series BiPAP V30 Auto®
C-Series ASV®
C-Series S/T and AVAPS®
Dorma 400®
Dorma 500®
DreamStation®
DreamStation ASV®
DreamStation Go®
DreamStation ST, AVAPS®
E30®
Garbin Plus®, Aeris®, LifeVent®
OmniLab Advanced+®
REMstar SE Auto®
SystemOne ASV4®
SystemOne (Q-Series)®
Trilogy 100®
Trilogy 200®
The recall addresses potential health risks, including cancer, related to the polyester-based polyurethane (PE-PUR) sound abatement foam used in the above devices. If you or someone you love has experienced any respiratory health issues you think may be linked to one of these devices, please contact us as soon as possible at 844.LAW.TALK or 205.324.3600 or through the form to the right for a free and confidential consultation regarding your claim. The Philips Respironics device recall attorneys at Hollis, Wright & Clay, P.C. have a proven track record of holding companies accountable for placing dangerous and defective drugs and medical devices on the market.
March 3, 2022 Update
On February 15, 2022, Judge Joy Flowers Conti appointed 33 attorneys, including 18 female attorneys, to leadership posts for the Plaintiffs in this litigation. In an interesting move, Judge Conti also created a committee to "mentor future MDL leaders." Attorneys Sandra Duggan of Levin Sedran & Berman; Kelly Iverson of Lynch Carpenter; Steven Schwartz of Chimicles Schwartz Kriner & Donaldson-Smtih; and Christopher Seeger of Seeger Weiss were all appointed as co-lead counsel. A 12-member plaintiffs' steering committee (PSC), co-liaison counsel, and several other committees were also formed, including the "mentoring" committee. The "mentoring committee seems to be designed to provide additional law firms and attorneys with the tools they may need to serve in leadership roles in future MDLs.

November 12, 2021 Update
On October 8, 2021, the judicial panel on multidistrict litigation (MDL) entered an order consolidating all personal injury and wrongful death actions filed in federal courts related to the usage of Philips' recently-recalled CPAP and BiPAP machines. The cases will be consolidated before the Honorable Joy Flowers Conti in the Western District Court of Pennsylvania. As of this update, there are approximately 200 cases now consolidated with Judge Conti, and that number will increase significantly in the coming weeks and months. The Order can be accessed here.
What does the establishment of a CPAP/BiPAP MDL court mean for your case? This means that any personal injury and wrongful death lawsuits pending in a federal court prior to the creation of the CPAP/BiPAP MDL will now be transferred to Judge Conti in the Western District of Pennsylvania. Further, any and all personal injury and wrongful death cases filed in the future will likewise be transferred to Judge Conti's' court.
Does this mean that your case will be tried before Judge Conti in Pennsylvania? No, not necessarily. While there is a remote chance that your case could be tried before Judge Conti through what is known as a bellwether trial process, this is very unlikely to occur. If your case does not settle while pending before Judge Conti, then it will ultimately be transferred back to the original federal court where it was filed, very often near your hometown, for trial purposes.
What if my CPAP/BiPAP lawsuit was filed in a state court, not federal court? If your attorney filed your case in state court, and it was not removed to federal court, then your case is not impacted by the federal MDL order and will remain in state court.

Hollis Wright & Clay, PC Mass Tort Department
Hollis, Wright & Clay, PC has a dedicated mass tort department that exclusively represents injured victims on a national level against pharmaceutical and medical device manufacturers. Our team of mass tort attorneys, paralegals & investigators have decades of experience investigating these types of claims, reviewing the injured victims' medical records and filing lawsuits for individuals and families hurt and/or damaged by defective drugs and medical devices, like the CPAP, BiPAP and mechanical ventilator machines. The Hollis, Wright & Clay, PC mass tort team has successfully recovered millions of dollars in compensation on behalf of literally thousands of individuals that have been injured or killed by bad prescription drugs and defective medical device systems and implants.
Health Risks of Philips Sleep Apnea and Other Respironics Devices
Philips Respironics received complaints regarding black debris in the airpath circuit of the mechanical ventilators, BiPAP, and CPAP devices. There is the potential the recalled devices could cause cancer and have been linked to other health issues. Health issues to be aware of that could be linked to Philips devices include:
Sinus infection,
Cough and chest pressure,
Headaches and dizziness,
Damage to kidney, liver, or lungs,
Cancer (kidney, liver, lungs etc.),
Upper respiratory and airway infections.
The health risk originates with the sound-reducing polyester-based polyurethane (PE-PUR) foam used in the Philips devices. The material degrades into black particles that can either enter the airways or be swallowed. This presents the risk of being exposed to and inhaling dangerous and potentially carcinogenic chemicals. The inherent risk of the material can be exacerbated by the use of various unapproved cleaning methods and/or using the machines in high-heat and high-humidity environments.
There are a number of different types of cancers that could be caused by the release of these bacterial particles. The list includes, but is not limited to, the following:
Breast cancer
Brain cancer
Lymphatic cancer (including non-Hodgkin's)
Leukemia
Bladder cancer
Prostate cancer
Liver cancer
Testicular cancer
Multiple myeloma
Hematopoietic cancer (immune cell)
Lung cancer
Thyroid cancer
Nasal cancer
Stomach cancer
Papillary carcinoma
Trust the Philips Respironics Device Recall Attorneys at Hollis, Wright & Clay, P.C.
If you or a loved one has used a Philips CPAP, BiPAP, or ventilator machine and have been diagnosed with kidney, lung, liver disease, or cancer, you may be entitled to compensation. Contact us for a FREE and CONFIDENTIAL consultation at 844.LAW.TALK or 205.324.3600 or here. The trusted attorneys at Hollis, Wright & Clay, P.C. are experienced and well-equipped to hold Philips Respironics responsible for placing unsafe CPAP, BiPAP and/or mechanical ventilators into the marketplace.