Respironics Baby Monitor Recall
The Food and Drug and Administration announced a Class-I recall of Respironics SmartMonitor 2 infant apnea monitors because of defects that could cause malfunctioning.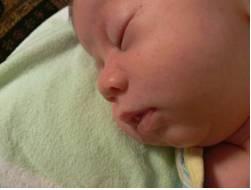 The recall affects monitor models 4002 and 4003, and serial numbers from 30000333364 through 3000038740 (note: if you have a monitor outside of this range, the firm is evaluating such cases too). The devices were manufactured from January 16, 2008 to November 13, 2008, and were distributed between January and December 2008. The Respironics infant apnea monitor is used to monitor the breathing and heart rates of infants who suffer from sleep apnea. It detects periods of temporary interruption in breathing and sounds an alarm warning caregivers. It also detects low heart rates. The monitor can be used in the home or at the hospital.
According to the FDA alert, the device may malfunction and fail to sound an alarm during any interruption in breathing or drop in the heart rate. In April 2009, Respironics Inc., the company that manufactures the sleep apnea monitors, sent out a letter to medical supply dealers, warning them of the defect. All dealers were asked to return monitors in their inventory and retrieve monitors that had already been shipped to patients. The FDA classified this as a Class-I recall, which is the most serious. A Class-I recall is issued when the agency believes that there is "reasonable probability" that using a product will result in serious injuries or death.
Healthcare professionals and caregivers have been advised to report any adverse reactions with the use of the sleep apnea monitors to the agency's MedWatch Adverse Event Reporting Program.
Infant Sleep Apnea
Infant sleep apnea is a baby sleep disorder, in which the baby stops breathing during sleep for 20 seconds or more. The condition is more common in premature babies, and is likely to be seen in children below the age of one. Symptoms of sleep Apnea include:
Snoring
Disturbed sleep
Breathing through the mouth
Inattention while awake
Babies who have sleep apnea may suffer from lower intake of oxygen. Such lack of oxygen could have a negative impact on their health.
Our lawyers are evaluating these Respironics Apnea Monitor cases. Contact us for a fee evaluation.