Roundup Litigation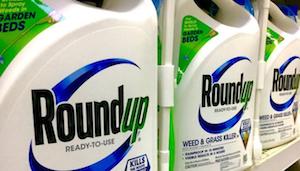 Are you one of the millions who has relied on Monsanto's Roundup for your personal gardening or farming needs? Have you used the weed killer for commercial purposes as a landscaper or agricultural worker for a golf course, garden center or similar facility? Are you facing a diagnosis of non-Hodgkin's lymphoma? Previously believed to be a safe herbicide on the market, Roundup is the most widely used herbicide product in the world and is now linked to an increased risk of non-Hodgkin's lymphoma. Call the trusted Alabama Roundup injury attorneys at Hollis, Wright & Clay, P.C. to discuss your situation, if you believe you are a victim of Roundup usage.
If you have been exposed to the chemical herbicide Roundup and been diagnosed with non-Hodgkin's lymphoma, then you may be entitled to compensation for your diagnosis and injuries. Currently, there are in excess of 10,000 lawsuits filed against the Roundup manufacturer, Monsanto. Bayer purchased Monsanto in 2018. A 2015 World Health Organization (WHO) report stated that the primary ingredient in Roundup, Glyphosate, is a human carcinogen. Some countries have already taken steps to ban the sale and use of Roundup, but the United States has not done so to this point. In fact, the U.S. Environmental Protection Agency (EPA) has been reluctant to conclude that there is a credible and meaningful link between exposure to Roundup and a diagnosis of non-Hodgkin's lymphoma.
However, numerous juries have apparently disagreed with the U.S. EPA as well as Bayer. In August 2018, a jury awarded a school groundskeeper $289 million due to exposure to Roundup exposure and subsequent diagnosis of non-Hodgkin's lymphoma. In March 2019, a California jury returned a verdict for $80 million in favor of a gentleman that was diagnosed with non-Hodgkin's lymphoma after years of using Roundup. In May 2019, a husband and wife, were awarded $2.055 billion by a California jury as a result of using Roundup for years and both being diagnosed with non-Hodgkin's lymphoma.
The primary claim in the Roundup lawsuits is that the manufacturer, Monsanto, failed to warn consumers about the cancer risks associated with using the product. Specifically, Roundup contains the herbicide Glyphosate, which may also be found in a wide variety of breakfast food products such as cereals. Studies show that people exposed to Glyphosate in high concentrations are at risk for developing cancer such as non-Hodgkin's lymphoma. Victims argue that they had a right to know that the product they were using was a potential carcinogen and should have been instructed on how best to protect themselves from the harmful effects of Roundup. Further, the evidence presented in trials to this point suggests that Monsanto knew for years that Glyphosate and/or Roundup were potential carcinogens but chose not to place a warning label on the product.
Although Glyphosate has been found in certain foods, the concentration levels are very low and not likely to pose any risk to humans. However, the exposure to Glyphosate from Roundup can be at much higher concentration levels and pose a risk of cancer to the user or bystanders. The individuals most at risk would be those that work with or around Roundup on a regular basis such as:
Farmers
Gardeners
Landscapers
Groundskeepers
Nursery employees
If you or someone you love has used Roundup in a personal or professional capacity and has been diagnosed with non-Hodgkin's lymphoma, call the trusted Alabama Roundup injury attorneys at Hollis, Wright & Clay, P.C.. We have nearly 20 years of experience handling personal injury cases and are ready to assist you with your claim. Contact us here or at 205.324.3600 or 844.LAW.TALK.
If you have used the product and are experiencing abdominal swelling, anemia, persistent chest pain, cough or fever, significant weight loss and swollen lymph nodes, but have not been diagnosed with non-Hodgkin's lymphoma, speak to your doctor immediately as these conditions could be symptoms associated with non-Hodgkin's lymphoma. If you have already been diagnosed, then contact the Hollis Wright Clay & Vail Roundup Injury attorneys today for a free consultation. All cases are handled on a contingency fee basis and we do not get paid unless we collect compensation for you.
Allow us to secure the justice you deserve while you focus on healing and fighting cancer. Compensation for your damages can help offset the cost of treatment and other related expenses. Additionally, taking legal action sends a message to large corporations that they must be held responsible for the products they put on the market, as well as warning consumers of potential dangers associated with the products.