Take a Tour of Our Office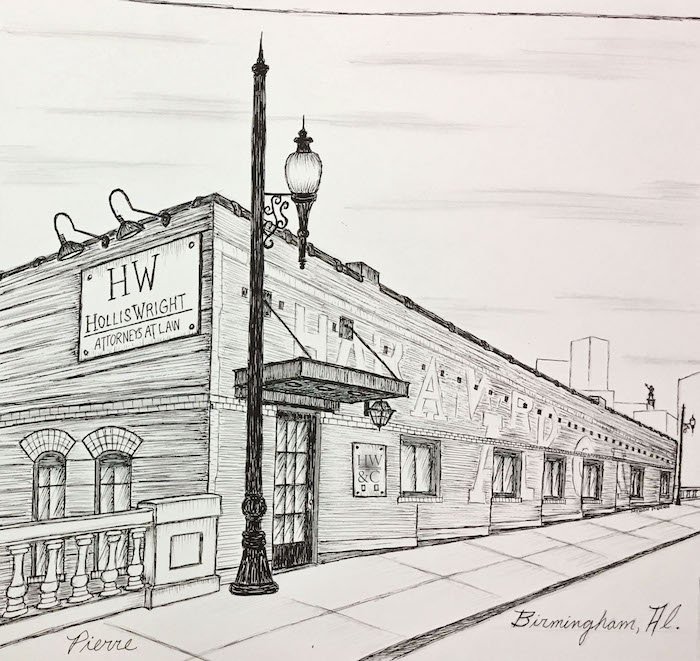 In 2015, Hollis Wright's building at 2201 Morris Avenue was honored in the category of Best of Corporate, by the International Interior Design Association.
In 2013, Wright Historic Holdings purchased the 2201 Morris Avenue warehouse building, which was originally built in 1889. The building appears as the No. 8 building on the National Register of Historic Places in the City of Birmingham. The building was included as a contributing property to the Morris Avenue/First Avenue North Historic District by the Alabama Historic Commission in the 1970s. The Morris Avenue/First Avenue North Historic District is one of Birmingham's oldest and most important warehouse and job market districts in the Southeast. Buildings located in this historic district make up one of the largest and most complete groupings of late 19th and early 20th century buildings in the State of Alabama. The 2201 Morris Avenue building features all brick exterior walls, 20ft ceilings on the first floor, 12 ft ceilings on the second floor, an arched recessed entry-way, arched windows and stone sills throughout. Research of the Birmingham City Directory establishes that the building was used as a warehouse for multiple companies between 1889 and 1939, including multiple produce companies, grain wholesalers, and packing companies. In 1939, Samuel Spina purchased the building and was later issued a building permit in 1942 for recovery and remodeling of the brick warehouse. Spina Importing Co., a wholesale grocery store, occupied the space until 1963. The building was then occupied by United Food, Inc. from 1965 to 1979. In the 1980s, a portion of the building became office space for an architecture firm which occupied the space for several years. The office was then completely gutted and unoccupied until purchased by Wright Historic Holdings in 2013.
The firm took occupancy of the building after construction was completed in December 2013. The warehouse includes a mezzanine, suspended glass walkways, an exposed library, spiral staircases, three all glass conference rooms, custom built barn doors, stained concrete flooring, a dry erase wall, and a trial/moot court room, among other interesting and unique features. The architect for the project was Lissy Frese from Cohen Carnaggio Reynolds. Of note, Lissy actually worked in the building in the 1980s prior to when it was gutted. The builders hired to refurbish the building were Kyle Tyree and Michael Burroughs of Locke Engineering Company. The new and refurbished style is called contemporary industrial. The contemporary industrial style was the vision of its owner long before construction began. The remodel of the building is displayed in the below pictures. Enjoy!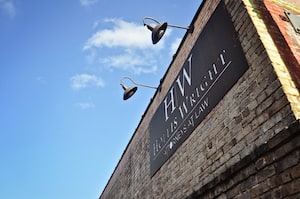 Main Entrance on Morris Avenue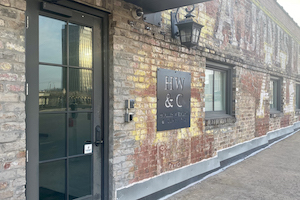 Alternate Entrance from 22 nd Street Viaduct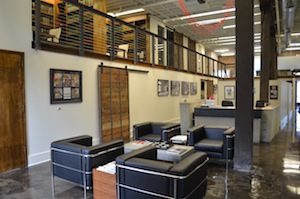 1 st Floor Lobby and Reception Area with View of 2 nd Floor Mezzanine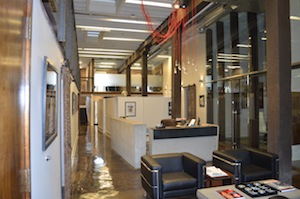 Lobby and Reception Area with View of Small Glass Conference Room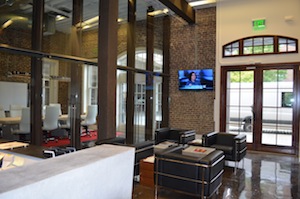 Lobby and Reception Area with View of Large Glass Conference Room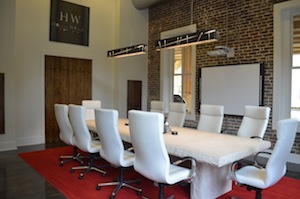 Large Glass Conference Room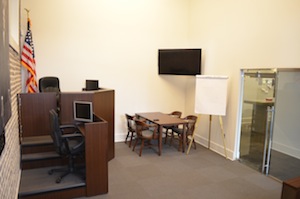 Mock Courtroom Judge & Witness Stand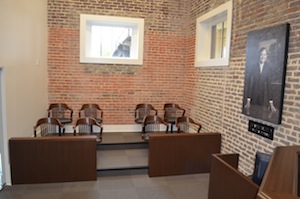 Mock Courtroom Jury Box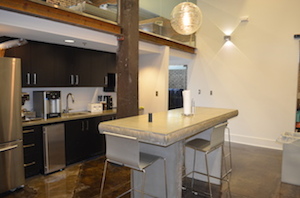 1 st Floor Kitchen & Break Area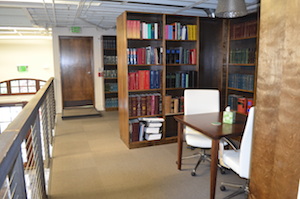 Mezzanine Library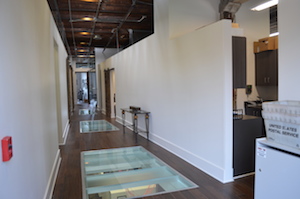 3 rd Floor Glass Walkway
3 rd Floor Glass Walkway View