Wrongful Prescriptions
My pharmacist and/or pharmacy gave me the wrong drug or the wrong dose of prescribed medication: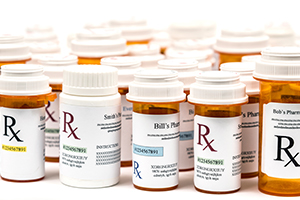 A mis-filled or mis-dispensed prescription medication may lead to a serious, life-threatening injury. When you go to the pharmacy, an individual assumes that a professional, such as a pharmacist, has followed the doctor's directions and dispensed the prescribed medication pursuant to those instructions. This, however, is not always the case. There are occasions when the wrong medication and/or wrong dosage is dispensed or otherwise provided to a consumer. If you have suffered a serious injury due to a mis-filled prescription, you may be entitled to monetary compensation. Please call Hollis Wright for a free evaluation of your or a loved one's potential claim.
I have experienced harmful side effects with my prescription drug medication that I did not expect:
Pharmaceutical drugs are supposed to give a medicinal benefit to the user. The use of pharmaceutical drugs should not outweigh the intended benefit. That, however, is not always the case. Sometimes pharmaceutical drugs are released to the public, but are later recalled due to the harmful side effects caused by the drug and/or due to an inadequate warning that accompanied the pharmaceutical drug. Consumers, however, should be warned about any potential known harmful side effect, but that does not always happen. There may be a defect involving the warning or the consumer may not have been properly warned by the prescriber of the harmful side effects associated with the medication. Hollis Wright has handled cases involving pharmaceutical drugs falling into those described categories, such as: Stadol, Vioxx, Zyprexa, Medline, and others.
If you have experienced any of the following serious, and sometimes fatal, side effects as listed below, you may have a potential claim against the drug manufacturer and/or the medical provider that prescribed the medication:
Birth Defects
Heart attack
Heart palpitations
Hypertension
Insomnia
Memory loss
Numbness in the extremities
Severe cardiac problems
Stomach aches
Stroke
Tremors
Severe Vomiting
Please call Hollis Wright for a free evaluation of your or a loved one's potential claim.